IMAGE Magazine: Feature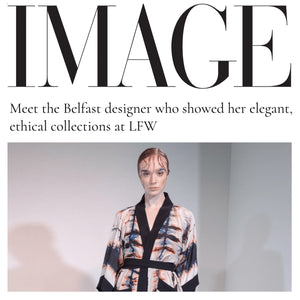 Read full article online here: IMAGE.ie
Meet the Belfast designer who showed her elegant, ethical collections at LFW
Belfast-born Riona Treacy trained at Alexander McQueen before setting up her own eponymous label, which she showcased at LFW for the first time this month. We love its fresh, contemporary aesthetic.
---
Belfast-born designer Riona Treacy who was first taught to sew by her grandmother.
The women I design for have a strong sense of self:
Having worked as a bespoke womenswear designer for five years before launching my label, I learned how women want to dress their bodies. I use my own body measurements in sample fittings (I am 5'5" and curvy), which gives me a realistic gauge of how the garment will fit and look on a real woman's figure, rather than on a mannequin or model.
I try to make pieces that are versatile:
Living in London, I am always thinking of busy city women, commuting to the office in their flats and then adding heels for an evening event, so I like to design garments that can be worn either way.
Red apron top, €375; high waisted trousers, €476; both at rionatreacy.com
My favourite piece from the current collection ...
is a navy long-sleeved panelled jumpsuit. It's really chic yet comfortable and looks great with trainers or heels.
Navy long-sleeve jumpsuit, €670.32 at rionatreacy.com
I know all the women who make my garments by name.
I love building a working relationship with my manufacturers. I especially love when the seamstresses get excited about a new design. They are very much part of the process.
We consider the brand a slow fashion brand.
We try to waste as little as possible, so recycle all fabric off-cuts or re-purpose them, and we don't use plastic in our packaging.
Our t-shirts are organic cotton and are printed using fully renewable energy sources. We also manufacture everything in the UK to reduce our carbon footprint.
Gold ghost dress, €422.47 at rionatreacy.com
If I was to define the Riona Treacy brand...
I would say clean lines, grown-up tailoring and feminine silhouettes.